---
Keto Fried Chicken is the best! It is a classic comfort food that is easy to make and delicious. Our version is crispy, juicy, and completely satisfying. This dish is keto, low-carb, grain-free, and gluten-free!
---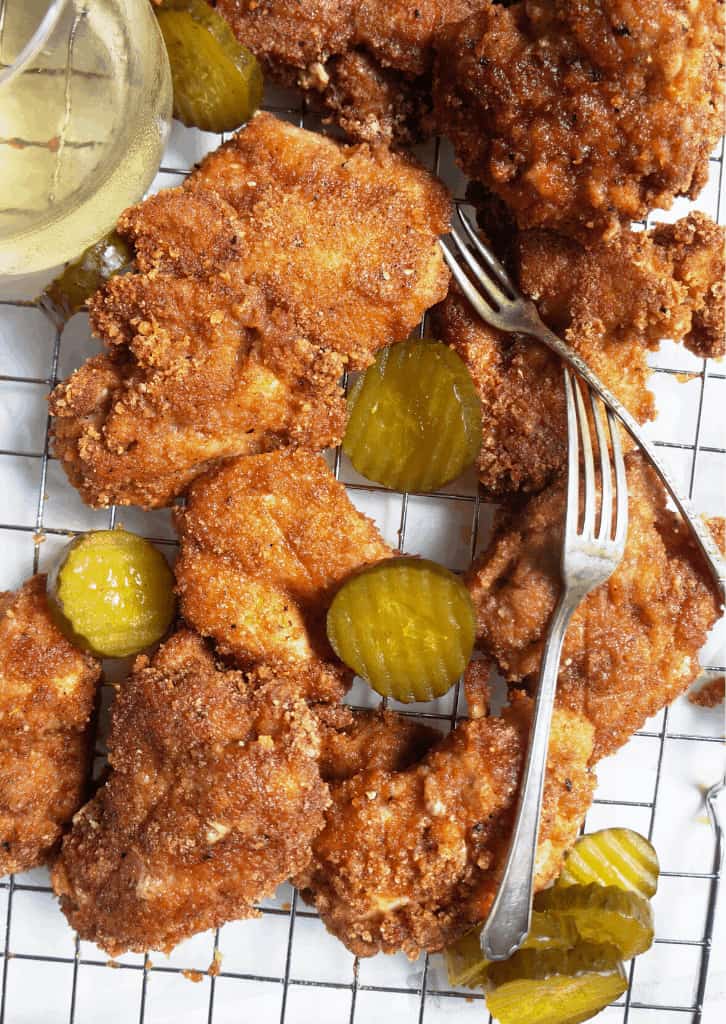 Keto Fried Chicken
What is it about fried chicken that is so addicting? We were so excited when we created this recipe! Now you can enjoy the crispy, juicy chicken, even on keto!
We can't wait to tell you how we created a low-carb "breading" that gives you the satisfying crunch, without all the carbs.
It is so easy to make and is ready to serve in under 20 minutes!
A Weeknight Staple
You will want to serve this dish over and over again. It'll become a part of your regular weekly menu.
Oh, and it doesn't need deep-fried either. We made it in the oven.
There is a small part of the recipe where you sear the thighs for a little bit in a skillet, but then you bake them the rest of the way.
Check Out Our Newest Recipe Video
Our Foolproof Method
Our method consists of first frying the chicken in a skillet for a few minutes to give is a good crust.
Then we bake it in the oven to ensure the chicken is crispy outside and fully-cooked, juicy inside.
It is perfection.
How to Make Spicy Keto Fried Chicken
Our recipe uses just a small bit of paprika and cayenne pepper.
But if you like your fried chicken to have more of a kick, add more cayenne pepper and some red pepper flakes.
You'll notice more heat for sure!
What's In Keto Fried Chicken?
To make our keto fried chicken, we used the following low-carb ingredients.
Chicken thighs
Salt and pepper
Parmesan cheese
Eggs
Mix Two Separate Bowls
Put the dry ingredients in one bowl and the eggs, salt, and pepper in the other bowl.
You'll use these different bowls for dipping.
Coat the Chicken and Cook
Go through and coat the chicken thighs with your mixtures.
First, dip them in the egg mixture. Then, toss them in the pork rind mixture. Do this for all your chicken pieces and set them aside on a plate.
As you can see, we didn't cut the thighs up at all. But if you wanted, you could slice them into thinner pieces. This will make them cook faster and make them a little easier to handle.
After they are all coated, fry them in some coconut oil, then bake them in the oven.
Are Pork Rinds Keto-Friendly?
Yes, pork rinds are definitely keto-friendly.
But read the nutrition facts and ingredients list before you buy them. Once in a while a variety of pork rinds could have added sugar.
Just make sure and pick out the ones with as few ingredients as possible.
Can You Use Chicken Breast or Legs Instead?
We recommend using chicken drumsticks/legs before you try to make this recipe with chicken breast. You see, thighs have more fat and dark meat on them. So they fry better. Chicken breasts will cook faster and might even turn out drier.
If you choose to make this recipe with chicken drumsticks, pay close attention to the cooking temperature.
You could try to bake them for an hour at 375°F and skip the frying step.
Then, use a meat thermometer to make sure the chicken is fully cooked to an internal temperature of 170-175°F. We like this higher temperature for dark meat.
Don't Forget the Dill Pickles
We love adding a few sliced pickles on top of fried chicken.
The tanginess goes perfect with the crunchy-hot fried chicken.
Pickles are basically just cucumbers, vinegar, spices, and water. For a little extra fun, add a few extra spicy pickles! Oh yum!
What to Serve with Keto Fried Chicken
This is a recipe the entire family will love. They won't even know it is Keto. Serve it with some of our favorite side dishes for an unforgettable meal.
Recipe
Keto Fried Chicken
Keto Fried Chicken is the best!  It is a classic comfort food that is easy to make and delicious. Our version is crispy, juicy, and completely satisfying. This dish is keto, low-carb, grain-free, and gluten-free!
Print
Pin
Rate
Ingredients
1

cup

coconut oil

6

chicken thighs

boneless skinless, about 1.5 lbs/6 thighs, patted dry with paper towels

2

eggs

1

teaspoon

black pepper

divided

1 1/2

teaspoons

salt

3.5

oz. bag

pork rinds

crushed in the bag or in food processor

1/2

cup

grated Parmesan

2

teaspoons

paprika

1

teaspoon

cayenne pepper
Instructions
Heat your oven to 350°F.

In a shallow bowl, whisk the eggs and 1/3 teaspoon black pepper together.

In another shallow bowl, mix together the remaining black pepper, salt, crushed pork rinds, Parmesan cheese, paprika, and cayenne.

One at a time, dip your chicken thighs into the egg mixture and then dredge in the pork rind mixture to fully coat. Make sure to press the crumbs into the surface and crevices of the chicken firmly.

Heat the

coconut oil

in a cast-iron skillet over high heat. Once the oil begins to smoke, place in the chicken thighs in the skillet.

Fry the chicken thighs for 2-3 minutes on one side and then flip and fry for another 2-3 minutes until the crust is golden brown.

Transfer the chicken thighs to the baking sheet and bake for an additional 10-15 minutes, until the internal temperature reaches 170-175°F.
Nutrition
Calories:
1378
kcal
|
Carbohydrates:
2
g
|
Protein:
63
g
|
Fat:
125
g
|
Saturated Fat:
80
g
|
Cholesterol:
268
mg
|
Sodium:
2200
mg
|
Potassium:
498
mg
|
Fiber:
1
g
|
Sugar:
1
g
|
Vitamin A:
701
IU
|
Vitamin C:
5
mg
|
Calcium:
213
mg
|
Iron:
2
mg
We Can't Wait To See You Try It!
We love seeing our recipes come to life!! We can't wait to see how you make these and loving seeing each person's unique spin on it! Tag us on Instagram @cleanketolifestyle or use the hashtag #CKLrecipe!
Make Sure To Save This Recipe or Share It!