---
This Keto Cheesecake with Chocolate Chips is the perfect and easiest low-carb dessert. No one will know that this creamy cheesecake is keto. It tastes just like (if not better) than the real thing! This cheesecake is keto, low-carb, paleo, grain-free, and gluten-free!
---
This cheesecake has all the flavors you love without the carbs.
The texture is a tad different than a typical cheesecake. It's softer. It's sort of like a basque cheesecake, but less custardy.
It still melts in your mouth and has the same burnt edges.
If you love rustic pies with all the cracks and flavors from baking homemade desserts, then you will adore this recipe!
Be sure to check out our Keto Mini Cheesecakes and Keto Raspberry Cheesecake Bars if you love this recipe!
Why You Will Love This Keto Cheesecake!
Delicious: The flavor is out of this world. The tanginess of the cream cheese mixes perfectly with decadent chocolate chips.
Low carb: Each slice contains only 8g of net carbs.
Perfect for a crowd: This recipe makes 12 servings, so it's a great recipe if you are entertaining.
---
Check Out Our Latest Recipe Video
---
Ingredients
Sometimes, you are just in the mood for something sweet and with lots of chocolate. That's why we made this keto dessert.
In fact, it has so many healthy ingredients in it that you could even get away with eating a slice for breakfast.
Here's what's in this delightful cheesecake.
For the Crust Layer
Butter: We recommend unsalted butter. If possible, grass-fed butter is best.
Egg: The size of the egg doesn't matter.
Vanilla Extract: Use 100% pure vanilla to ensure the best flavor.
Granular Erythritol: Our favorite is Swerve. It has the best taste without any aftertaste.
Almond Flour: A great gluten-free and keto-friendly alternative to all purpose flour.
For the Cheesecake Layer
Cream Cheese: Use full-fat cream cheese. It has the best flavor and texture.
Eggs: Any size of eggs will work great here.
Granular Erythritol: Swerve is the best keto sweetener we've found. You can also use granula monk fruit.
Vanilla Extract: The cheesecake will have the most robust flavors if you use pure vanilla extract.
Heavy Cream: Use full-fat heavy cream. It will give it the creaminess you want.
Coconut Flour: It is a dense flour that add add depth to the cheesecake.
Chocolate Chips: Use keto-friendly chocolate chips. These are optional.
How To Make Keto Cheesecake
There are two main steps for this cheesecake.
First, you need to bake the crust first. Second, then you bake the cheesecake layer in the crust.
The full instructions are detailed in the recipe card at the end of this post.
But we wanted to give you step-by-step instructions, so you know exactly how to make this low-carb cheesecake.
Step #1: Make Keto Cheesecake Crust
First, preheat the oven to 350°F. Then, mix together all the crust ingredients in a mixing bowl.
Transfer the ingredients to your lined 11-inch springform pan. Use your hands to press the crust mixture down into the pan and create an even layer.
Don't worry about putting crust along the sides of the pan. You just need enough to cover the bottom of the pan.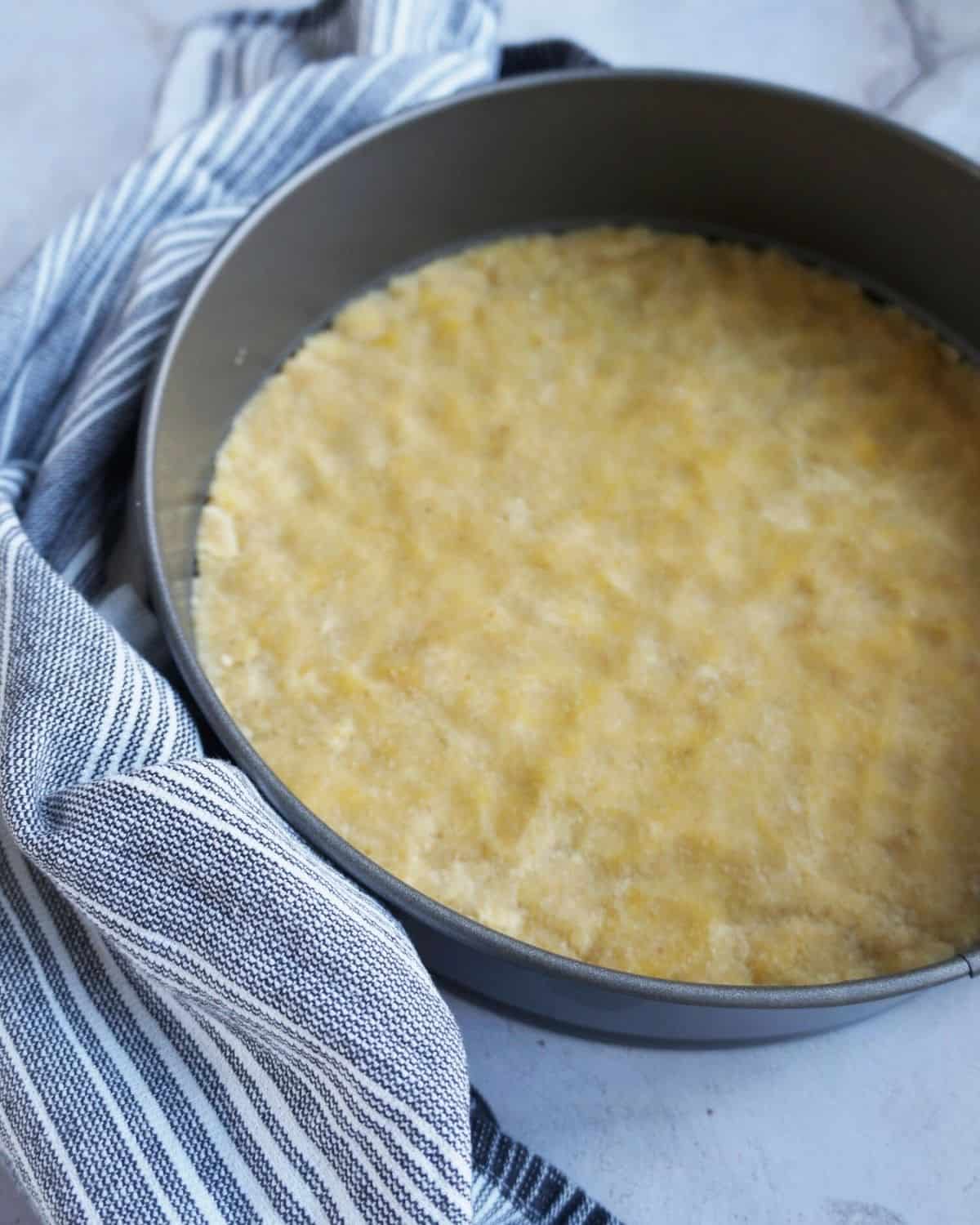 Bake in the oven for 12-14 minutes until the crust is golden brown.
It should look like the picture below.
Step #2: Make Your Cheesecake Filling
Place the cream cheese in a large bowl and beat with an electric mixer until smooth.
Add in the eggs one at a time, beating in between each egg addition. Once the eggs are added beat for a few more minutes or until fluffy.
Then add in the erythritol, vanilla, heavy cream, and coconut flour and beat again for another minute.
Pour the mixture on top of baked crust layer and use a spatula to smooth is into one even layer.
Sprinkle with chocolate chips on top. This steps is optional, but adds a great flavor element.
Bake for 45 minutes or until the top starts to turn golden brown.
Allow to cool completely before removing from the pan.
Cut into slices and serve cold.
Recipe Notes and Tips
Cracks are ok. Don't worry if the cheesecake cracks during baking. This is normal and gives the cheesecake a rustic look.
Let cool. Make sure to let the baked cheesecake cool completely before slicing.
Chocolate chips are optional. You can omit them altogether and make just a plain cheesecake. It just depends on your preference!
Storage. If you have any leftovers, store them in the fridge in a sealed container.
Frequently Asked Questions
More Keto Dessert Recipes
If you'd like more delicious desserts that are perfectly keto, then check out these favorites:
We Can't Wait To See You Try It!
We love seeing our recipes come to life!! We can't wait to see how you make these easy keto whoopie pies and loving seeing each person's unique spin on it! Tag us on Instagram @cleanketolifestyle or use the hashtag #CKLrecipe!