---
Keto Creamy Chicken Thighs take less than 30 minutes to make and are incredibly satisfying. This simple dish features a rich cream sauce that pairs perfectly with crispy chicken thighs. This hearty meal is keto, low-carb, grain-free, and gluten-free!
---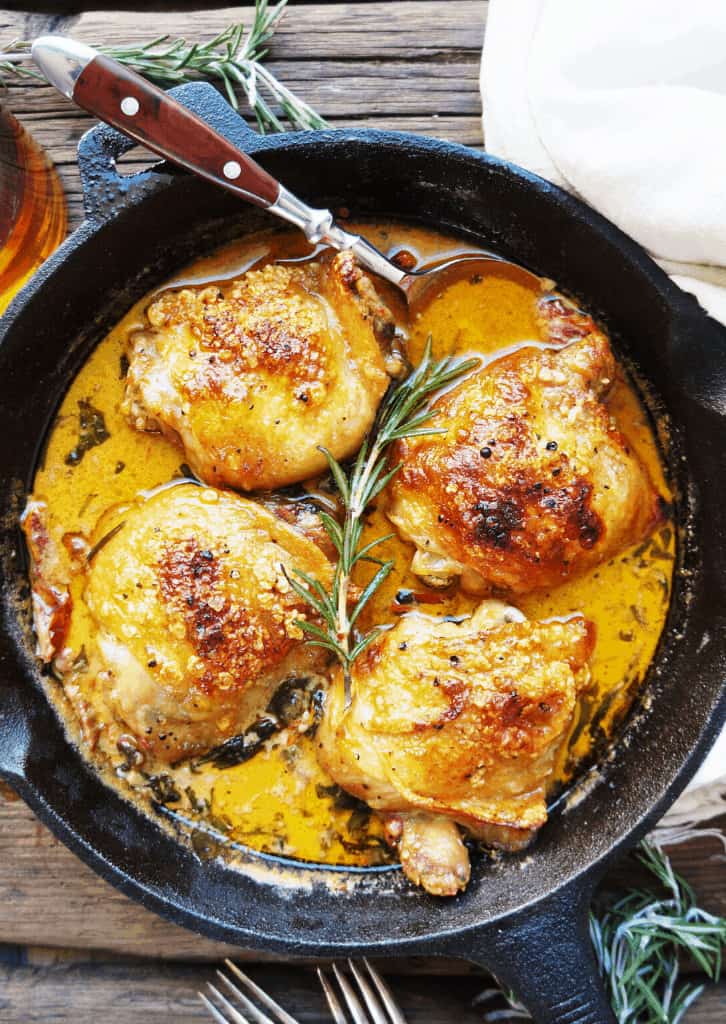 Keto Creamy Chicken Thighs
Keto Creamy Chicken Thighs areso darn good! Plus, so easy to make.
Just roast your chicken thighs in the oven and make a quick cream sauce while they are baking. Then all you have to do is add the chicken to your cream sauce and you are ready to eat!
Dinner is served!

What Type of Chicken Works Best
We love using skin-on chicken thighs in this recipe for a few reasons:
Fat Content! Chicken thighs contain more fat than chicken breasts, which is a plus on keto and it is a good kind – mono-saturated fat to be exact.
Moisture! The dark meat in the Chicken Thighs is kept moist by the layer of skin that's usually kept on thighs when sold at supermarkets. Most chicken breast meat is sold skinless and ends up being drier when you cook it. Also, keeping the skin on while roasting results in the most delicious crispy skin!
Flavor! In the flavor department, chicken thighs win hands down because the dark meat naturally has more intense and flavorful edge to them.
We use Butcher Box chicken thighs for their quality, taste, and convenience. You can learn more about ButcherBox here.
If you don't have chicken thighs, you can also use chicken breasts or chicken tenderloins in this recipe.
What Ingredients You Need
Aside from the chicken thighs, here is what in this recipe:
Avocado Oil: This oil has a neutral flavor and high smoke point. We love Primal Kitchen brand. If you don't have it in your pantry, you can sub for EVOO.
Butter: We recommend unsalted butter. If possible, grass-fed butter is best.
Garlic: We love garlic!!! This recipe calls for 2 cloves, but you can adjust that number up or down depending on your preference.
Shallot: You will find shallots near the onions in your grocery store's produce section. They have a milder flavor than regular onions. If you don't have one, you can sub a white or yellow onion in its place.
Dry White Wine: The wine not only deglazes the pan so you can pick up all those delicious browned bits in your skillet, but it also brings out the flavors of the sauce. If you don't have any white wine on hand, you can omit this ingredient.
Chicken Bone Broth: We love adding gut-healing bone broth into our dishes when we can. Our favorite brands are Bonafide Provisions or Kettle & Fire. If you don't have bone broth, you can sub with regular chicken stock.
Heavy Cream: Opt for organic heavy cream for the best quality. You can also sub coconut cream if you want to make this dairy-free.
Sun-dried Tomatoes: You will find these in a jar packed in olive oil at your grocery store in the canned tomatoes aisle.
Baby Spinach: We always have a container of baby spinach on hand to use in salads, smoothies, and soups!
Fresh Basil: We love how fresh herbs add another flavor dimension to a dish. If you don't have any fresh basil, you can omit this ingredient.
How to Make the Crispiest Chicken
Is there anything better than perfectly crisped chicken skin?
Our fool-proof method is tried and true and produces great results every single time.
Step 1: Dry the meat! Use paper towels to absorb any excess moisture on the chicken.
Step 2: Coat them in oil to ensure they don't burn.
Step 3: Bake them in hot, dry air in the oven.
Step 4: Finish them under the broiler for 2-3 minutes.
Keto Cream Sauce
The cream sauce for this dish couldn't be easier to make.
We recommend making the sauce while the chicken is roasting in the oven.
First, you want to saute the garlic and shallot in butter in a skillet.
Then add in the liquids and let cook for a few minutes.
Lastly, stir in the spinach and basil. That's it!
Put It All Together
Once the sauce is ready and the chicken cooked through, all you have to do is combine them.
Nestle the cooked chicken thighs into the skillet with the cream sauce and spoon the sauce on top of the thighs.
Let cook for 1-2 more minutes and then carefully remove the skillet from the heat.
Garnish with more chopped basil and serve immediately.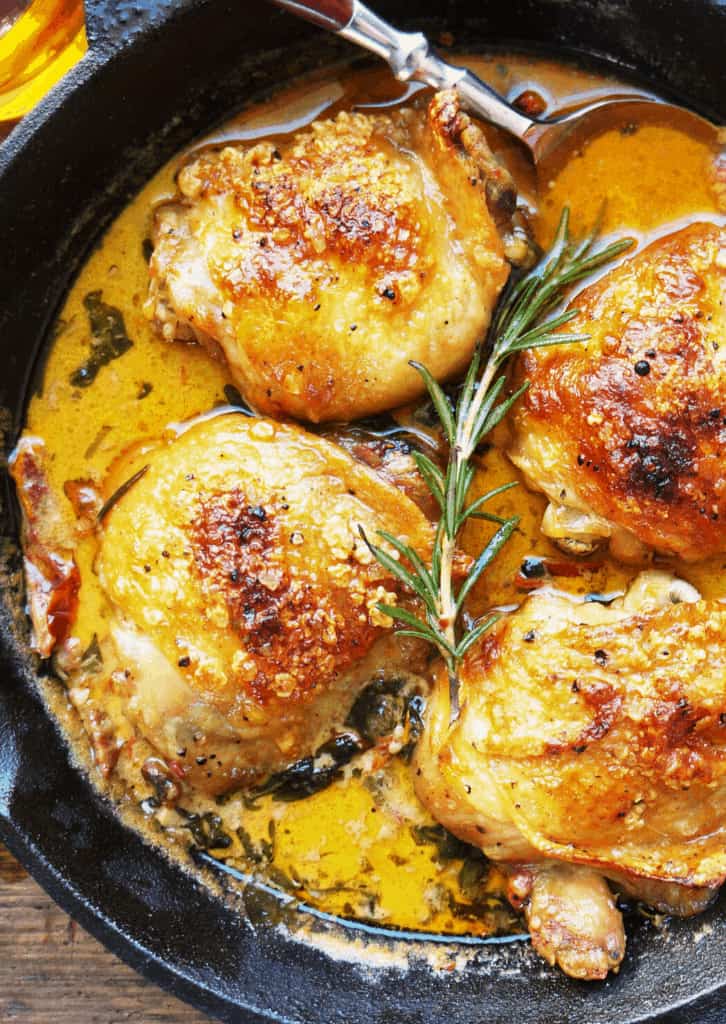 What to Serve with Keto Creamy Chicken Thighs
To complete this keto meal, pair it with one of these delicious side dishes:
How to Store Leftovers
This recipes serves 4, but you can easily increase it to serve a larger group or to ensure you have plenty of leftovers to eat throughout the week.
Store any leftovers in a sealed container in the fridge for up to 3-4 days.
More Easy Keto Chicken Recipes
Looking for more clean keto recipes that feature chicken?
Check out these favorites:
Recipe
Like what you see? Follow us on Instagram and Facebook! Love this recipe? Hit the Pin button below and share it with your friends! Make sure you don't miss new recipes by subscribing to our mailing list below!
We Can't-Wait To See You Try It!
We love seeing our recipes come to life!! We can't wait to see how you make these and loving seeing each person's unique spin on it! Tag us on Instagram @cleanketolifestyle or use the hashtag #CKLrecipe!
Make Sure To Save This Recipe or Share It!