---
We have rounded up our must-have Keto Pantry Staples that we always have on hand in our kitchens and use on a regular basis in our recipes. These staples will make keto cooking and sticking with a Clean Keto Lifestyle a breeze!
---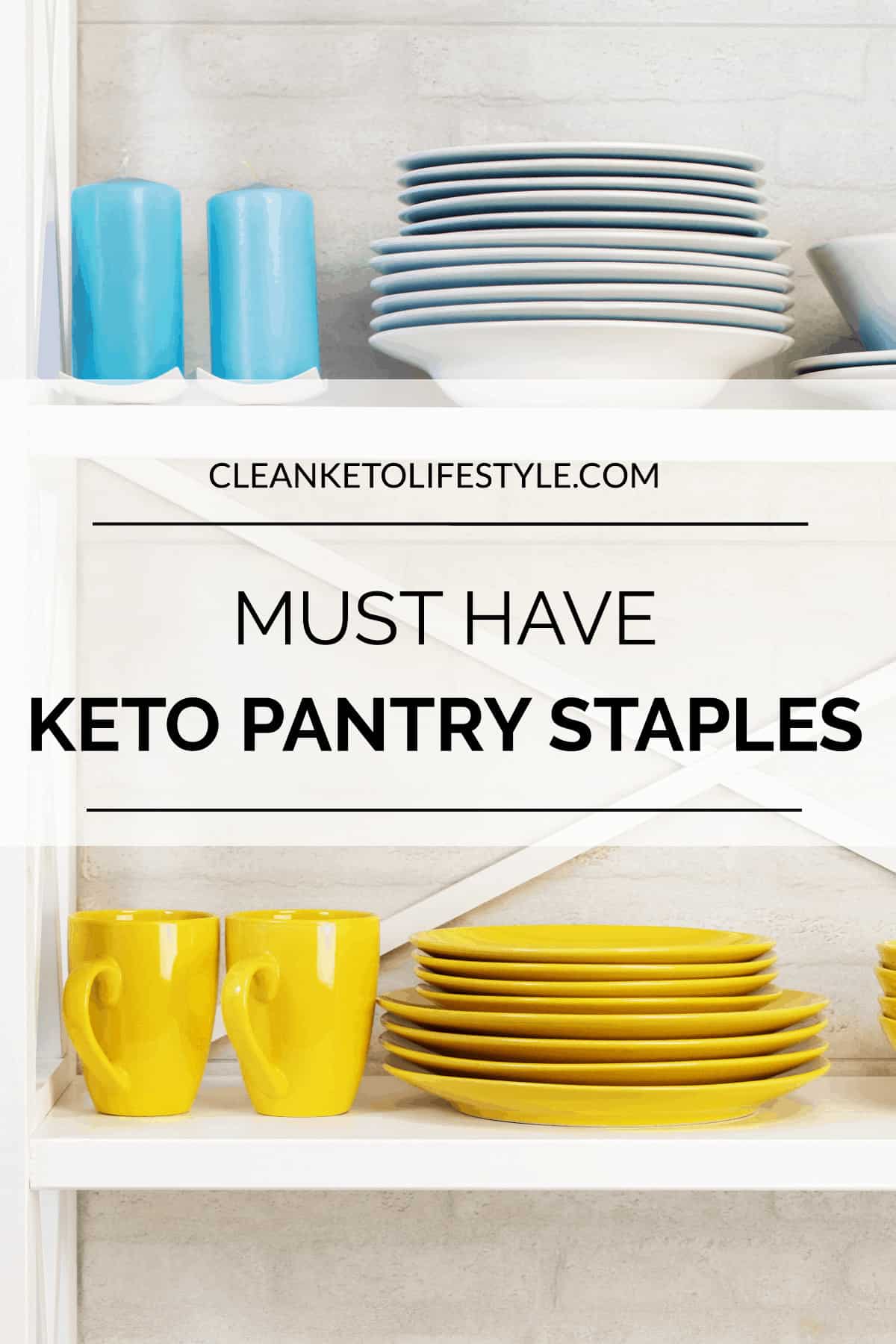 Keto Pantry Staples
We sincerely believe that preparation equals success. So before you jump into the keto way of life, you need to get organized.
This includes stocking your kitchen with essential keto ingredients. Some of these items you may already have in your kitchen, but there may be a few that you should add.
Below we have compiled a comprehensive list of keto pantry staples and we have broken them down into 3 categories:
Healthy Fats
Keto Sauces and Condiments
Keto Baking Essentials
We stocked our kitchens with all of these keto pantry staples when we first started the keto diet and they made implementing keto a breeze!
Where To Buy Your Pantry Staples
Our Clean Keto Lifestyle shopping strategy is to buy pantry staples and healthy fats online for the cheapest price we can find, and then head to the farmer's market each week for fresh, in-season vegetables and proteins.
This saves us both time and money. Rather than scouring the grocery store aisles to try and find all your keto pantry staples, you can do all your shopping online in the comfort of your own home!
This is where Thrive Market comes in! Thrive has so many great keto options that can be ordered online ad then shipped directly to you!
What is Thrive Market?
Thrive Market is an online store similar to Whole Foods but with low wholesale prices!! It's the perfect combination!
We've been using Thrive Market for years to stock up on all our keto pantry staples – and it's basically the greatest thing ever!
First off, their selection is amazing! They have Food, Beauty Products, Cleaning Supplies, Vitamins, Supplements, Pet Care, and even WINE!! Really good wine - that is clean and keto!
Plus, the products are high quality and have to meet at least one of Thrive's high quality standards - organic, non-GMO, sustainable, and non-toxic. We love that!!
There is even a "Shop By Diet" button that lets you filter by various diets - including the ketogenic diet!
And the best part?!! All your items are shipped straight to your door. Super convenient.
Healthy Fats
Because the ketogenic diet is centered around fats, you will want to make sure you have plenty on hand. Also, it is vital that you are consuming the right ones!
The fats you ingest should be from whole, unrefined foods such as olives, avocados, coconuts, nuts and seeds.
Here are our top picks for Healthy Fats, plus a fun new products that we are loving right now!
1) Thrive Market Organic MCT Oil - MCT oil is odorless, flavorless, and can be added to smoothies, salad dressings, and coffee for a big dose of healthy fats, which you NEED ON KETO! MCTs are easier for the liver to process and metabolize for quick energy, so put a tablespoon in your morning coffee and start the day off right!
2) Thrive Market Extra Virgin Olive Oil - Made from 100% certified organic olives, this olive oil has a bright, fruity, peppery flavor profile. Drizzle this healthy fat over roasted fish, salads, and steamed veggies. We love using it in our Roasted Cauliflower Mash or in our Lemon Dill Vinaigrette.
3) Primal Kitchen Avocado Oil - Oil made from avocados - what's not to love?!! This oil is the perfect keto cooking oil because of its high smoke point, amazing fat profile, and mild and versatile flavor that blends perfectly with all your favorite dishes. Use this oil for roasting, broiling, sauteing and stir-frying.
4) Thrive Market Organic Virgin Coconut Oil - Is there anything that this oil can't do? There are endless ways to use it in the kitchen, such as sauteing, frying, baking—but it can also moisturize skin and deep-condition hair, too. We like this brand for the price point and because it is certified organic.
5) Thrive Market Organic Coconut Milk - Coconut full-fat milk is the ultimate keto pantry essential. We always keep at least 4 cans on hand at all times to add to coffee, make whip cream, and bake with. We love this brand because it contains no additives or preservatives. In fact, it only contain two ingredients: organic coconut and water. You can't get more pure than that!
6) Fourth & Heart Grass Fed Vanilla Bean Ghee - If you haven't tried ghee - you are missing out!! Ghee is clarified butter that is free of lactose because all of the milk solids are completely removed, so it is much easier to ingest.  It is oh so creamy and can be used just like butter. We love this Pure Madagascar Vanilla Bean for its subtle, sweet taste and aroma. Wait until you try it on our Homemade Zucchini Bread! This ghee also comes in other flavors like Himalayan Salt, California Garlic, and even Truffle! Trust us - you need ghee in your life!
7) Primal Kitchen Avocado Oil Mayo - Finally a great-tasting mayo with out any additives! This made from organic eggs and organic vinegar and is free of added sugar, gluten, dairy, soy and canola-oil. It tastes incredible and is a perfect base for sauces and dressings, like our Sweet Horseradish Cream Sauce and our Bang Bang Sauce.
8) Epic Cage-Free Duck Fat - Duck fat is a staple cooking oil that works frying and baking magic! We absolutely love using it to add incredible flavor when roasting or stir-frying veggies.
9) Thrive Market Organic Raw Macadamia Nuts - These little white nuts are buttery, crunchy, and oh so tropical. They deliver fiber and magnesium, too, so snack on a few by the handful or make a creamy nut milk.
10) Nuttzo Keto Nut & Seed Butter - This nut and seed butter is perfect for a low-carbohydrate or ketogenic lifestyle. Elevate any of your favorite keto snacks with a dab, scoop, or smear. Don't be surprised if you find yourself eating this only 2 carb treat by the spoonful!
11) Pili Hunters Pili Nuts - Pili Nuts are our newest obsession! They have the highest fat content of any nut around and taste like buttery morsels. They also an excellent source of 8 amino acids, magnesium, vitamin B1, and other minerals. They sound too good to be true - BUT THEY AREN'T! Try them as soon as you can!
Keto Condiments & Sauces
Most store bought condiments and sauces will likely contain sugar, flour, or additives, so we recommend avoiding them.
Instead opt for these amazing keto-friendly versions that a clean, low-carb, and taste amazing!
Let's go over our must-haves:
1) Primal Kitchen Spicy Brown Mustard - From our Keto Bacon Swiss Burgers to our Signature Keto Soft Pretzels, mustard is a must-have in a keto kitchen. But not all are made the same. This version is made from organic ingredients that are keto-friendly including organic vinegar, mustard seeds, salt, and turmeric for an extra kick.
2) Primal Kitchen Sugar-Free Ketchup - It really is a keto miracle!! A sugar-free ketchup that actually tastes good!! We secretly snuck this version into our fridge, and our picky husbands didn't even notice or complain that it tasted different! This ketchup is unsweetened and made with organic tomato concentrate, onion and garlic powders, and balsamic dressing.
3) Primal Kitchen Sugar-Free Steak Sauce - Most popular steak sauces are made with sugar, which is why we love this keto-friendly version! It tastes the same, but with BETTER ingredients! Whether you're into filets and ribeyes, or tri-tip and burgers, this versatile savory staple is guaranteed to provide a ton of flavor, without the carbs!
4) Primal Kitchen Sugar-Free BBQ Sauce (Regular & Golden) - Finally, BBQ sauce without all the sugar!! Marinate your chicken, upgrade your pulled pork, and dip your grilled veggies with reckless abandon in either variety. Both flavors taste amazing so we recommend trying out both!
5) New Primal Buffalo Sauce (Hot & Medium) - Most Buffalo sauce brands contain canola oil and artificial butter flavoring. As a result, we either make our own or to save time - we use these New Primal Buffalo Sauces. They contain no added sugars and are made with olive oil.
6) New Primal Citrus Herb Marinade - While most marinades are full of added sugar, soy, and low-quality oils, this marinade provides tangy flavor without the unnecessary additives. Instead it's made from real ingredients, such as vinegar, pineapple concentrate, smoked sea salt, and dehydrated spices. We love using this to marinate with chicken thighs and salmon.
7) Thrive Market Coconut Aminos - Upgrade your soy and gluten-filled soy sauce, for this version! These aminos have the same sweet-yet-salty umami flavor as soy sauce, but offers a big difference when it comes to nutrition. They are loaded with minerals, vitamins, and 17 amino acids. Use them in stir frys, marinades, or sauces - such as our Keto Thai Drunken Noodles and our Skirt Steak with Chimichurri.
8) Primal Kitchen Tomato Sauce (Vodka Sauce & Tomato Basil) - We love these sauces because they are made with organic ingredients and contain no added sugars, artificial ingredients, gluten, canola or soybean oil. Serve this sauces over zoodles, spaghetti squash or Shirataki noodles for a quick keto dinner!
9) Primal Kitchen Salad Dressings (Ranch, Caesar, & Italian) - These salad dressings are made with 100% avocado oil and no hidden sugars! Keep them on hand to top keto salads with or dip veggies into!
Keto Baking Staples
Just because you are living the keto way of life, it doesn't mean that you have to give up baked goods forever!
In fact, keto-friendly sweeteners chocolate, and flours do exist.
Stock your pantry with these items and you will have everything you need to make a scrumptious keto treat!
1) Swerve Granular - This keto-sugar replacement is a great tasting, natural sweetener that measures cup-for-cup just like sugar and has zero net carbs It is perfect for baking, browning, and caramelizing. It made from erythritol and contains no artificial ingredients, preservatives or flavors. We love using this in our keto desserts!
2) Lakanto Golden Monkfruit Sweetener - This zero net carb sugar substitute offers the sweetness of table sugar, without all the drawbacks. It's produced using the natural fermentation process of certified non-GMO corn, and includes extract of ripened monkfruit, resulting in a richer flavor - making this the perfect keto brown sugar replacement.
3) Swerve Confectioner - This keto-friendly sweetener is the perfect substitute for powdered sugar. We use this version of erythritol to make icing for our Keto Cinnamon Rolls or to create a beautiful coating for our Pecan Pie Fat Bombs.
4) Thrive Market Switch Sweetener - This sugar alternative is made from three naturally derived ingredients - erythritol, chicory root, and monk fruit. It contains zero net carbs and tastes just like the real thing. Use it in place of sugar in your favorite recipes!
5) Lily's Chocolate Chips - These keto chips are made with fair trade certified dark chocolate and sweetened with stevia. There's no added flavor enhancers, making these tasty morsels all the better. We use them to make our Keto Peanut Butter Chocolate Chip Cookies and our Keto Double Chocolate Chip Cookies.
6) Thrive Market Cacao Powder - Cacao is chocolate in its purest form. Add it to baked goods or smoothies for an extra boost of flavor! We use it in our Keto Triple Chocolate Doughnuts!
7) Eating Evolved Dark Chocolate Bar - Absolutely zero sugar is added to this nutritional powerhouse that happens to be a bar full of chocolate! This bar combines unsweetened organic cacao with loads of organic coconut to deliver healthy fats and nutrients in abundance. If you love super dark chocolate - this is for you!
8) Thrive Market Almond Flour - This flour is the gluten-free, keto alternative to white flour and we use it all the time!! In our cookies, cakes, pretzels, and pizzas! Made from ground almonds, this grain-free flour lends moist texture and rich, buttery flavor to sweet and savory recipes alike. this is a pantry necessity!
9) Thrive Market Coconut Flour - This flour is made from dehydrated, finely ground coconut meat and is low-carb, fiber-rich, and gluten-free. Because it's extremely absorbent and gluten-free, we recommend sticking with recipes designed with this type of flour in mind - like our Keto Cheese Bread and Keto Crab Rangoons.
10) Thrive Market Xanthan Gum - This fine-ground powder becomes gelatinous when combined with a liquid, making it perfect to add elasticity and structure to keto and gluten-free recipes. In fact, we use it in our Keto Garlic Knots and our Keto Zucchini Bread Whoopie Pies.
Start Stocking Your Pantry Today
We have an exclusive offer for our CKL Community.
Use this link to get a FREE 30 day trial membership!
Other Keto Guides and Resources
Check Out This Recipe You Can Enjoy on Keto